MC x Bachca x Kerzon feel good kit
Regular price

€0,00

Sale price

€62,00
Everything is in the title ! With the girlfriends and friends of Mathilde Cabanas and Kerzon, we thought of a feel good kit, to offer or afford, to feel GOOD.
A kit that will be the perfect gift idea for all those who need a little shot of love and well-being in their bathroom. In the program…
– The famous Bisou kit whose capacity is at least as crazy as Mary Poppins bag. You slip in all your beauty essentials and much more. It's got the perfect size, one that doesn't have us sacrificing half of our beauty products because the zipper will burst. Not everything fits, guaranteed satisfied or refunded!
– Kerzon's crazy Sun soap. Yes, as its name suggests, this soap is DINGO. It smells of summer heat, idleness with its coconut and frangipani accords. It is thought for the whole family with its gentle formulation with organic coconut and olive oils, formulated and manufactured in France and whose bottle is 100% from recycling and household waste. 100% feel good we tell you!
– The Bachca detangling and shine brush. Take our word for it, this brush is crazy! It gently detangles and gently smooths the lengths, to give your hair more beautiful material and texture day after day. Even Alexa Chung says she can't live without it...
There you go, and as Christmas is not far away, this whole well-being bundle is at the gift price of 62€ (instead of 83€ for each item individually).
DESCRIPTION

Une trousse qui sera l'idée cadeau parfaite pour toutes celles qui ont besoin d'un petit shot de kif et de bien-être dans leur salle de bain. Au programme…
😘 La célèbre trousse Bisou dont la contenance est au moins aussi folle que le sac de Mary Poppins. On y glisse tous ses indispensable beauty et bien + encore. Elle a le format parfait, celui qui ne nous oblige pas à sacrifier la moitié de nos produits de beauté parce que la fermeture va exploser. Non tout rentre, garanti satisfait.e ou remboursé.e !
🧡Le savon fou Soleil de Kerzon. Oui, comme son nom l'indique, ce savon est DINGO. Il sent bon la chaleur de l'été, le farniente avec ses accords de coco et frangipanier. Il est pensé pour toute la famille avec sa formulation douce aux huiles de coco et d'olive bio, formulé et fabriqué en France et dont le flacon est 100% issu du recyclage e déchets ménagers. 100% feel good on vous dit !
🌈La brosse démêlage et brillance Bachca. Croyez nous sur parole, cette brosse est folle ! Elle démêle avec douceur et lisse les longueurs délicatement, pour redonner jour après jour une plus belle matière et texture à vos cheveux. Même Alexa Chung dit qu'elle ne peut pas s'en passer…
L'ensemble de ce bundle bien être est au prix cadeau de 62€ (au lieu de 83€ pour chaque article individuellement).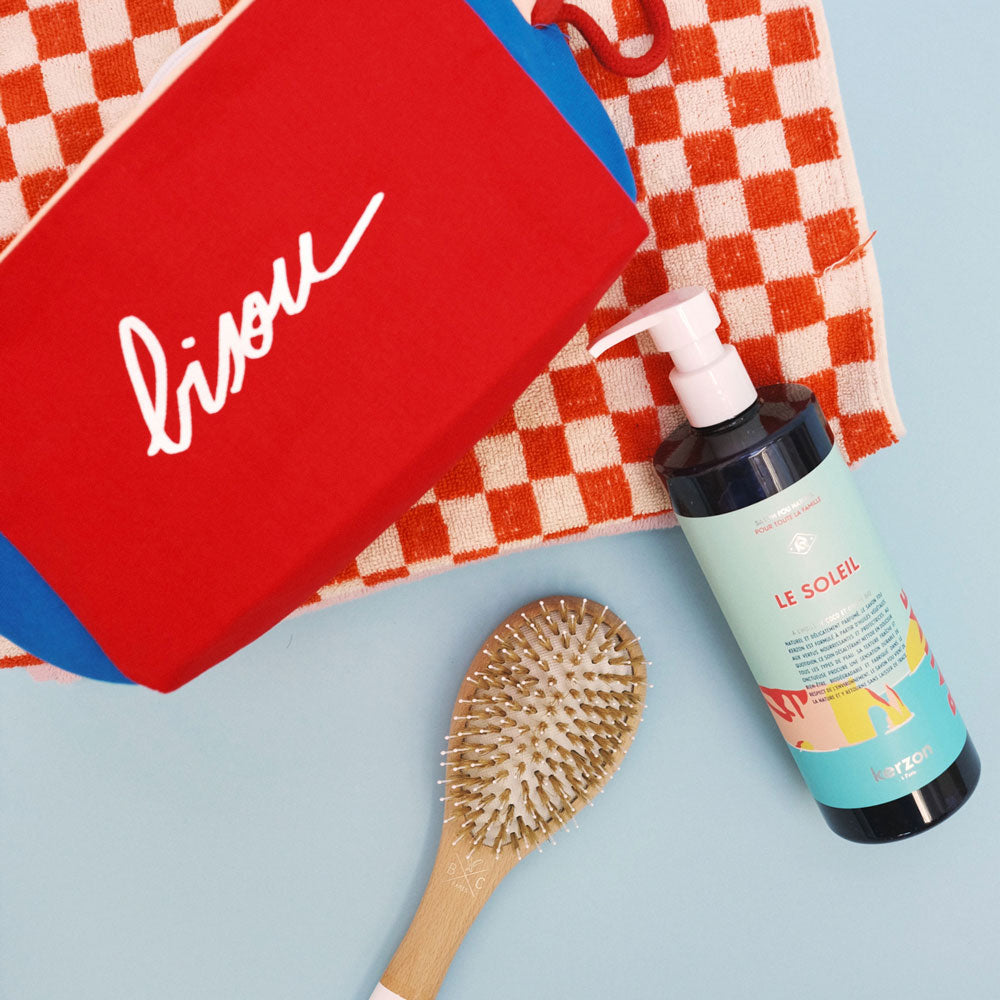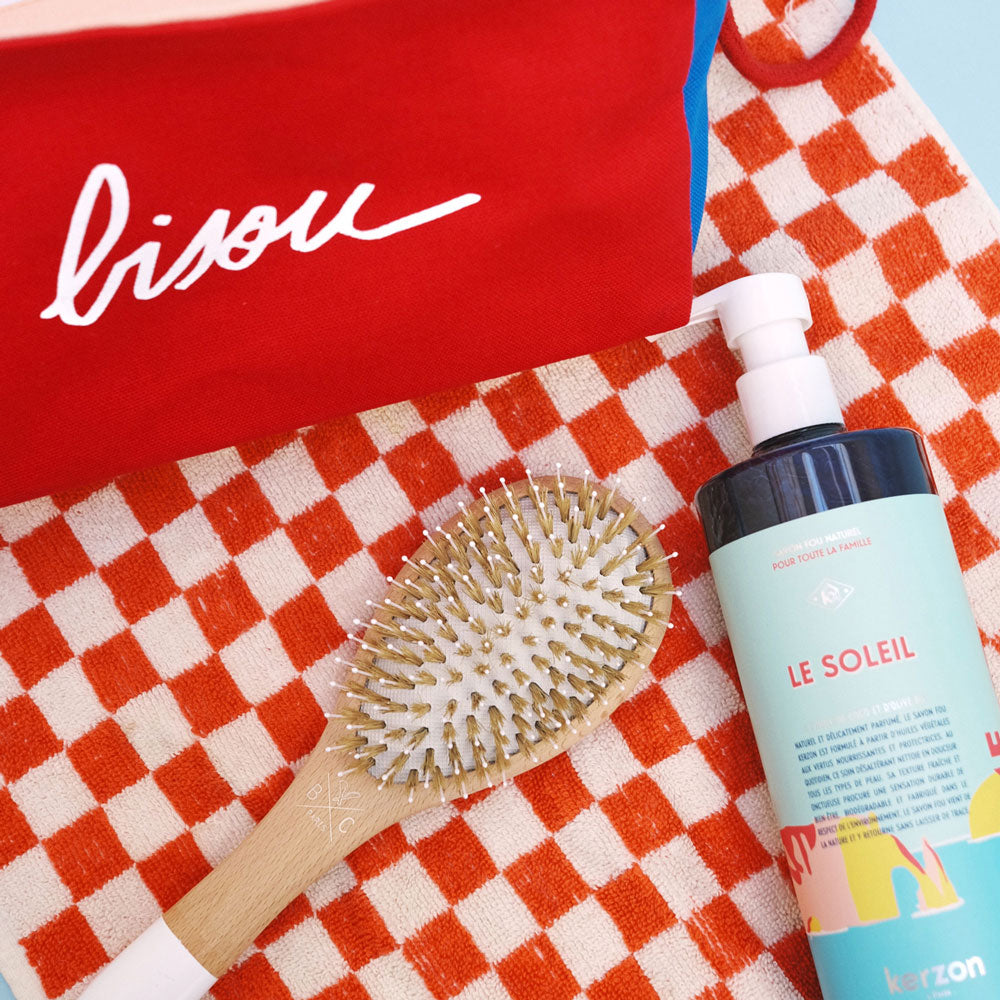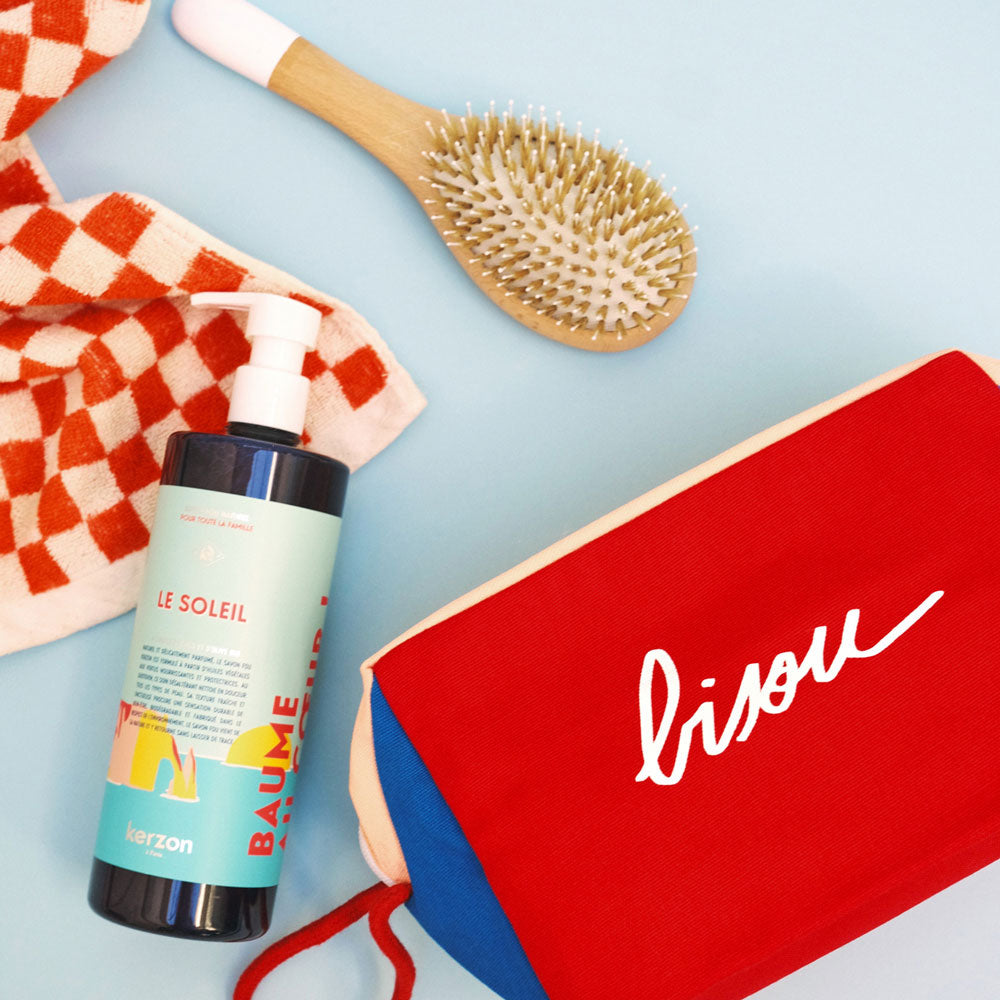 Why choose Bachca?
Natural Wood

Ultra-strong natural beech wood for long-lasting accessories.

Custom brushes

High precision laser engravings for a unique gift.

Eco-responsible packaging

Minimalist and cardboard, eco-friendly
FAQ's
When will my order be shipped?

✨ Any order placed before 12 p.m. is dispatched the same day (working days only). Orders placed after 12 noon will be dispatched the next morning at the latest (working days only).

✨ Please note that personalized products are carefully engraved in a specialized workshop. It takes 10 to 15 days from order to shipment.
My order is a gift!

🧡 Choose a delivery address different from the billing address so that your gift is sent directly to its recipient.

🧡 Consider having your product personalized for a tailor-made gift.

🧡 During the holiday season, it is possible to request gift wrapping.
How do I return a product from my order?

🌈If your order does not give you complete satisfaction, you have 14 days after receipt to return all or part of your package. (Exchange or refund)

🌈Return the complete product(s), unused, in its (their) original packaging intact and as far as possible accompanied by its (their) original packaging to the following address :

Bachca retours
66 rue Marechal Joffre
44000 Nantes

France